Dallas Cowboys: Rank the Running Back Performances (That Nobody Remembers)
So I caught a few highlights of Cowboys games from the 1970s and saw a reel of the 1972 game between Dallas and Washington. The teams played in Dallas on December 9, just three weeks before they would face off again in the NFC Championship Game. Of course, Washington reached the Super Bowl that year.
Dallas was the victor on December 9, though, and the leading rusher was not who you would expect—Walt Garrison, who outgained Calvin Hill, 122 yards to 111 yards.
How many good (if not great) performances by a running back have most fans forgotten? This list introduces a few of those games.
Dallas Cowboys: Good Running Back Performances Nobody Remembers
Most fans of the Dallas Cowboys remember great games by the likes of Emmitt Smith, Tony Dorsett, and even DeMarco Murray or Ezekiel Elliott.
But the Dallas franchise is 57 years old, and several running backs have had memorable games that few, if any, would remember.
This list focuses on those games.
1
Joseph Randle, Sept. 27, 2015
Randle began the 2015 as the starting running back before he ran into legal problems. His best game as a pro occurred on September 27, 2015, when he rushed for 87 yards and scored three touchdowns. However, he played in only three games after that before Dallas released him.
2
Scott Laidlaw, Nov. 11, 1978
Scott Laidlaw served largely as a backup fullback in Dallas between 1975 and 1979. He rarely carried the ball more than ten times per game and had only two games with 100 or more rushing yards.
Against the Redskins on November 23, 1978, he had his best game, rushing for 122 yards with two touchdowns in a 37-10 Dallas win.
(Image is not from the same game.)
3
Daryl Johnston, December 24, 1989
Daryl Johnston will also be one of the all-time great Cowboys, as he served as the hard-nosed fullback for the great Emmitt Smith.
Did he ever lead the team in rushing yards?
Yes!
On December 24, 1989, with the pipes in Texas Stadium freezing, Moose rushed for 60 yards in a 20-10 Dallas loss.
(Image is not from the same game.)
4
Tashard Choice, December 5, 2010
Tashard Choice was the third running back behind Felix Jones and Marion Barber in 2010, but he wound up with some opportunities to play.
During the dreadful season, Dallas had a 3-8 record when the team traveled to Indianapolis to face Peyton Manning and the Colts.
Dallas blew a 17-0 lead and a 27-14 lead before finally winning the game in overtime.
Choice had one of his best games as a pro, rushing for 100 yards and a touchdown on 19 carries. It was his only career game with 100 rushing yards.
5
Chris Warren, Oct. 4, 1998
Chris Warren had been a star running back in Seattle, but he was only a backup when he arrived in Dallas in 1998.
In three seasons in Dallas, he watched as Emmitt Smith chased the career rushing mark.
Warren had one game, though, that stood out. On October 4, 1998, he filled in for Smith and gained 104 yards on 14 carries, scoring twice.
(Image is not from the same game.)
6
Darren McFadden, Oct. 25, 2015
Nobody wants to remember the 2015 season, when the Dallas Cowboys were 4-12.
Darren McFadden had better rushing days as the lead back in Oakland, but he had a game to remember against the Giants, gaining 152 yards on 29 carries with a touchdown.
Of course, Dallas found a way to lose anyway.
7
Duane Thomas, Oct. 25, 1970
Duane Thomas certainly made a name for himself in Dallas, despite playing only two seasons with the Cowboys. He had six career 100-yard games for Dallas during the regular season, plus some great playoff performances.
The game few would remember was his first 100-yard performance. On October 25, 1970, the team traveled to Kansas City to face the Chiefs, who were the defending Super Bowl champions. Up to that point, Thomas had only 127 total rushing yards, but he surpassed his season total in one game, gaining 134 yards with two touchdowns in a 27-16 Dallas win.
8
Troy Hambrick, Dec. 14, 2003
Troy Hambrick was the immediate successor to Emmitt Smith in Dallas, but Hambrick lasted only one season.
He had his bright spots, though. Against the Redskins on December 14, 2003, he gained 189 yards on 33 carries, far surpassing any other performance during his career.
9
Felix Jones, Jan. 9, 2010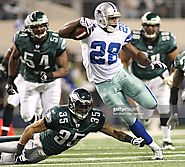 Felix Jones had bright spots during his Dallas career, but he was too inconsistent to develop into a quality starter.
His best performance came in the playoffs. Dallas managed to win its first playoff game in more than a decade on January 9, 2010, beating Philadelphia 34-14. Jones led the way, gaining 148 yards on 16 carries, including a great 73 yard touchdown run that put the game away.
10
Walt Garrison, Dec. 9, 1972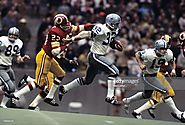 Walt Garrison was an integral part of the 1972 Dallas Cowboys rushing attack, but he managed to gain more than 100 yards in only one game.
That game occurred against division rival Washington on December 9, 1972. The Cowboys managed a 34-24 win against the eventual NFC champions, and Garrison helped to lead the way with 121 rushing yards and a touchdown.
It marked the second, and final, time that Garrison surpassed 100 rushing yards in a game.
11
Julius Jones, Dec. 6, 2004
Julius Jones looked at times to be the next great back after the departure of Emmitt Smith.
As a rookie in 2004, he had a game to remember--that not everybody remembers.
In a wild game in Seattle, Dallas came from behind to win 43-39. Jones ran the ball 30 times and gained 198 yards.
Remarkably, Jones had run the ball 30 times or more during each of the previous two games as well, giving him three consecutive games with 30 or more carries. However, he would have 30 or more attempts only once more during his career.
12
Emmitt Smith, Nov. 28, 2002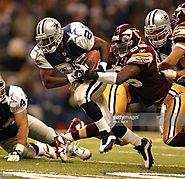 Emmitt Smith had so many memorable games that he probably does not belong on this list.
One game does, however.
During his final season in Dallas, Smith struggled. He frequently ran fewer than 15 times during games, and until Thanksgiving Day, he had gained more than 100 yards only once.
Then he had his last great game as a Cowboy.
At age 33, Smith rushed 23 times for 144 yards, leading the Cowboys to a 27-20 win over Washington.